Discover your inner drive with 'Are You An Overachiever?' quiz! Explore your ambition and balance with Harvard-inspired insights. Discover YOU!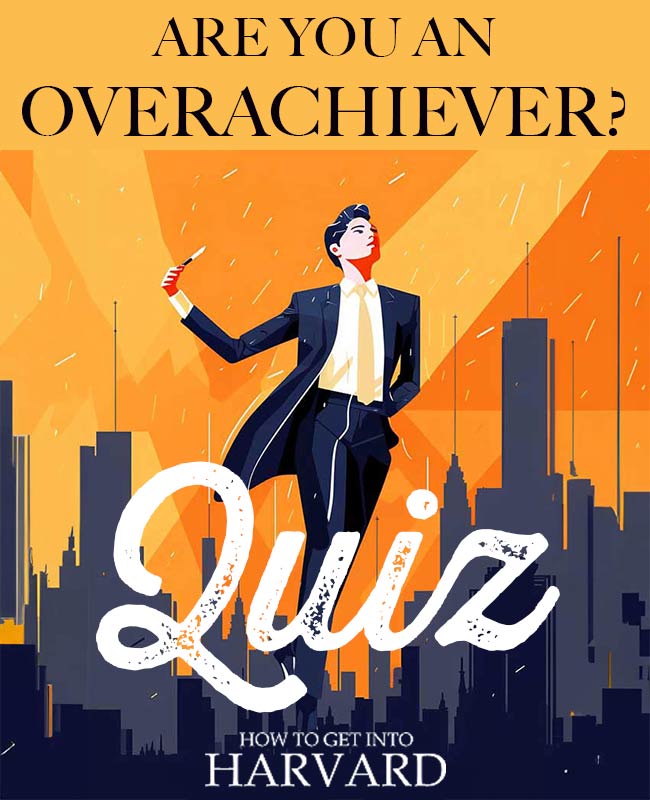 It didn't dawn on me when I first set foot on Harvard's cobblestone pathways. But living there during the first couple of days, before the classes had even started, meeting all those smart young people, whose intelligence, maturity levels, drive and just the general skill of lifeing, I'm sure was way way higher than mine, it hit me. Everyone there was smarter than I was, and everyone there had achieved more than I had! Okay – at least most.
This wasn't jealousy. On the contrary – it was the mixture of awe, excitement, and – let's be real – a dash of nervousness. The vibrant energy of individuals who constantly pushed boundaries was palpable. And if you're reading this, chances are, you've felt it too.
Many students ask themselves, 'Are You An Overachiever?' when faced with relentless ambition. So, I started wondering: are all of us from Harvard naturally overachievers, or is it just the environment that shapes us?
This curiosity gave me the inspiration to create a fun yet enlightening quiz. And nope, it's not just another Buzzfeed-style test where you find out which type of pizza topping represents your personality. This is about (re)discovering the core of your drive.
Jump to Quiz!
Why Take the Quiz?
The burning question: Are you an overachiever or just passionately driven? And is there even a difference? And if you're even an overachiever? Is that really so bad? Actually, it could be: depends.
Understanding if you're an overachiever can help you get to know your actual drive for it. Are you setting goals that genuinely resonate with your passion? Or are you on a never-ending treadmill, constantly chasing after what society says is 'success'? By recognizing your tendencies, you can better navigate your career and personal life in a way that brings both fulfilment and balance.
What Does Being an Overachiever Mean?
An overachiever isn't just someone who always gets straight A's or is the first to raise their hand (although those are classic signs!). It's about someone who consistently goes above and beyond, often setting and pursuing goals that are exceptionally high. These goals could be set by others close to them, like parents, peers or teachers. But more often than not, they're set by you yourself.
Psychology of Overachievers
Deep inside an overachiever's brain, there's an innate desire to excel. Often driven by a combination of intrinsic motivation and external pressures, overachievers tend to have a heightened sense of responsibility. Some are fueled by a need for validation, while others might be compensating for past failures or insecurities. The psychology is multifaceted and can vary from person to person.
Your peers can also play significant roles too. Being surrounded by high-achieving peers (a place like Harvard is a prime example) can sometimes act as a catalyst, pushing you to strive harder, either to fit in or stand out.
Similarly, those with innate intelligence might find themselves excelling without deliberate effort, inadvertently setting higher and higher standards for themselves after each success. This can also be fueled by your parents or teachers constantly telling you that you're extraordinarily intelligent, although the contrary can also be true – you may try to overachieve so that they notice your intellect.
But, like everything, it's crucial to strike a balance. While it's great to be driven by peers or your own intellectual abilities, it's equally essential to ensure that the drive comes from a place of genuine passion and not just external influences (read pressures).
7 Signs You're An Overachiever
Are you an overachiever, or do you find balance in setting achievable goals? The line between dedication and obsession can be thin; So here are 7 signs that will help you introspect and find out – Are you an overachiever?
You always aim for perfection, even in small everyday tasks.
You often feel restless when you're not working or being productive.
You tend to compare your accomplishments to others, striving to be the best.
Deadlines? You meet them way before they're due.
"Good enough" isn't in your vocabulary; you always go the extra mile.
You juggle multiple projects or hobbies simultaneously.
Failure or setbacks? They actually motivate you instead of bogging you down. They're just stepping stones to your next big win.
Ah, chances are, like me you can relate to not just one but most of these overachiever signs, if you're actually one. But don't worry, if you can't figure it out (or don't wanna admit), I've created a quiz to get you a definitive answer!
Is It Bad to Be an Overachiever?
Well, in most cases, being an overachiever is taken as a compliment. But here's the thing: it can be a double-edged sword. On one side, that drive can lead to astounding accomplishments. It can open doors, create opportunities, and lead to growth in unexpected ways. And depending on your motivations, can even bring you happiness, both long and short term. However, if unchecked, it can also lead to burnout, anxiety, and missing out on the simple joys of life.
Quiz – Are You An Overachiever? Find Out Now!
Wanna discover more about yourself?
Remember, it's not about labeling yourself but about understanding your inner workings. This quiz isn't a judgment but a mirror, reflecting a side of you that you might not always see.
It's about finding your balance, chasing your passions, and living a life that feels genuinely you.
Also, I'd love to know your result so share it with me in the comments below, and whatever the result may be, cheers to your growth!
How do you feel about deadlines?
I meet them way before they're due.
---
I meet them right on time.
---
I often ask for extensions.
---
Deadlines? I tend to ignore them.
---
How would friends describe your work ethic?
Hardworking and reliable.
---
Does the job when needed.
---
You receive feedback on a project. It's 95% positive, but 5% suggests improvement. How do you feel?
Obsessed about the 5% and how I can improve.
---
Happy about the positive, and consider the suggestions.
---
Mostly focus on the positive.
---
Doubt the entire project because of the 5%.
---
When faced with a challenging task…
I dive in, excited about the opportunity to excel.
---
I tackle it steadily, doing my best.
---
I might procrastinate a little before starting.
---
I avoid it or delegate it.
---
Ambition and a desire to be the best.
---
The joy of achieving my set goals.
---
External rewards and recognition.
---
I don't really have a driving force.
---
How do you handle downtime or vacations?
I'm always planning or thinking about the next project.
---
I balance relaxation with some productive activities.
---
I fully relax and take a break.
---
How do you handle failure?
I analyze what went wrong and try again.
---
I get a bit upset, but eventually move on.
---
I avoid thinking about it.
---
I'm devastated and dwell on it for a long time.
---
You're given a task you've never done before. Your reaction?
Research, learn, and conquer it.
---
Ask for help and collaborate.
---
Give it a try but not stress over it.
---
How would you describe your goals?
Higher than most people I know.
---
Realistic and attainable.
---
I don't really set goals.
---
When setting targets for yourself, you generally…
Go above and beyond, pushing your limits.
---
Set challenging, but achievable goals.
---
Stick to what you know you can do.
---
Don't bother with targets.
---
Share the quiz to show your results !
Subscribe to see your results
Are You an Overachiever Quiz
I'm %%personality%%
%%description%%
But I'm also %%personality%%
%%description%%