From polishing your resume to finding contacts and more, here are the best tips on how to apply for a job as a Harvard student. 
Grad school life coming to an end and you're heading to the real world? Well, that's the hard part, but it's why you went to grad school in the first place! Applying for a job is only easy once you've got one. When the job market is tough, or if you can't easily find something that really interests you, things can get overwhelming fast. So I hope this guide to job search can help you out.
While it's true that Harvard students get job offers while they're still at school, it's not guaranteed. In fact, that can happen for many students in other universities too, as it happened for me when I was in college back in India.
Personally, it took me a long time to get the right job after Harvard, which was tough because I hadn't even expected it to. I graduated with my master's from Harvard Design School (GSD) in May 2011, and found my first full-time job in Jan 2012, even though I had been applying since Jan 2011. The job market was tough for all my classmates. But all those months I spent applying for jobs gave me the experience on how to do it right, which I want to share with you today.
What Happens after You Graduate from Harvard?
Most students go on to do jobs in the US in fields like consulting or finance. Other popular areas include real estate, technology, medical sciences, academia, and more. Some also go on to start their own businesses or become partners at firms, or even join politics.
Having Harvard on your resume does put your resume on the top of the pile at any employer's office. However, that doesn't mean it can always get a job. There are so many factors that come into play like the industry demand in your profession, the company's individual hiring needs, open positions for fresh graduates or even visa issues.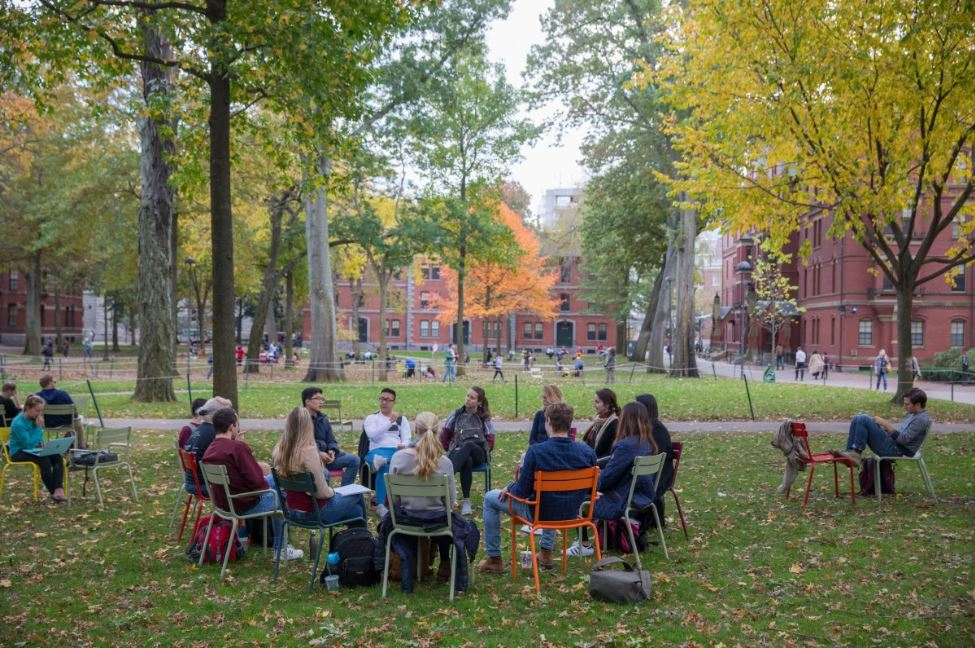 When to Apply for a Job
It's best to start trying to apply for a job at least 3 to 5 months before your graduate, especially if the job market is tough in your field. Someone once told me, getting a job is a balance of three things – your strengths, your interest and market demand. So make sure you're well aware of what you're good at, what you love doing and where the industry is headed.
You may be good at something different than what you're interested in making a career in, while the job market may have a lot of opportunities for something related but different. So if the job market is tough, keep realistic goals and keep in mind these factors.
Now, let's go over all the steps and tips that will help you find your dream job and be selected for it.
Attend Networking Events
A benefit of networking is that it helps you make a mental note of the names in the industry. You can learn about the companies who are hiring, the positions you're qualified for and the people to reach out to for jobs. So it's a good idea to begin networking as soon as you start college or grad school.
Networking is key to making connections in the industry and for getting your dream job. Networking helps get your foot through the door. It helps you be on the first name basis of someone who's on the first name basis of your dream recruiter.
Networking may be little uncomfortable for introverts, and it was for me too. For the first timers, attending networking events may feel unnerving, but you will soon get used to them. Attend as many as you can so you can get to know the people in the industry.
Keep a few visiting cards handy, so that you can exchange them with visiting professionals. Feel free to ask them questions, get general job search advice and try to understand the job market from the visiting professionals.
Never hesitate to walk up to a representative of your dream company and seek advice. Request them to put you in touch with relevant contacts. If you're authentic, enthusiastic and humble, they may just put in a good word.
Take Help of Your School's Career Consultant
Every school has a Career Services program or placement cell. And every student feels differently about how much assistance they can provide. Some students want to spend all their free time meeting the career consultant, taking their advice with every little step, and others don't ever meet theirs.
However, it's a good idea to seek their advice on the basics like your resume and hiring manager contacts. Visit them and tell them about your job search needs and preferences. Take your basic resume and get their advice on how to improve it. Request them for leads and follow up frequently.
Honestly, my career consultant really helped me polish my resume. She helped me transform it from a bland 4-page long fluff to a 1-page winner. And now my family treats me like a resume guru – always begging me to improve theirs! Don't worry, I'll share all my advice with you, too. Keep reading!
Make an Impressive Resume
A good resume is usually the most important thing you need that can get you noticed. An ideal resume should make you look like the right candidate for the position – simple as that. It should bring out your strengths, highlight your relevant experience and of course, should put your contact details in front of the recruiter's eye.
Your resume should be concise and well structured. Ideally it should no longer than 1 page so that it's easy to read. Be sure to choose a simple font, and use only 1 font throughout the resume. Start with the important points like your Harvard degree or job experience related to the position you are applying for.
Try to make it impressive by mentioning extra-curricular activities or awards, for example, if you have led any student's club at Harvard. Your resume should be unique and targeted towards a specific company or position you are applying for. Your resume should not look empty, but avoid mentioning unnecessary fluffy details like Word or Excel.
Prep Well for Job Fairs
Every school hosts a job fair, in fact there may be multiple job fairs you can attend throughout the university. So you need to prepare well in advance, and keep an eye out for their schedules. A mix of the best (or at least better) firms in your industry and the ones that you have never heard of will be there.
The best way to prepare beforehand is to get some advice from your school's placement cell in-charge. Ask her what companies usually come for hiring, and which ones are expected this year. Do your research about them all to understand which ones you'd like to interview for, and who you may be meeting.
Dress well and prep well. Keep a few visiting cards, a pen, a stapler and copies of your resume handy. Practice your elevator pitch/ one-minute intro or job search questions beforehand. Meet as many companies as you can and try to understand their hiring needs. Be sure to collect their visiting cards and write down the name of people you meet so you can email and follow up later.
Some companies you're interested in may not even be hiring, but it's always good to talk to their reps, and make connections. This way your name will be among the first they'll think of when an opening comes up.
Finding the Right Contacts to Apply to
Once you've found the right company that's hiring, and a position you're interested in, it's time to find someone to send that application to. The best job search is done when you know your application will at least be seen by the right person. So sending an application through the company's website, or by emailing the HR department might not be enough. Depending on the current recruitment needs, the HR may not even forward your application to the concerned department. Or it may go unnoticed until the opening comes up, and by then it'll be at the bottom of the pile somewhere.
HR is never the best idea and generic email addresses almost always send back a generic reply. Or none at all! So find out who's in charge of the hiring decisions at the company, for your department. You can find their contact details through google or LinkedIn, you can email them or even try to meet them in person at a networking event. You can also find out of someone in your contacts, or school's alumni knows them, who can put you in touch. Honestly, it's not as hard as it sounds.
Cover Letter
A cover letter is absolutely necessary if you want your application to look complete. Cover letters give you that extra edge. And as an employer myself now, I can tell you that I may ignore most applications, but I always read those with cover letters even when I'm busy. So in short, a good cover letter can help you land an interview easily.
Writing your first cover letter can be daunting, but it won't be if you follow some simple tips. Just think of it as explaining a few things:
Intro: who you are.
Experience: what you've done so far.
Career goals: what you would like to do next, what position you're applying for.
Background: why you're applying to this company in particular, how you found out about them or the position.
Context: how you can be useful to the company you're applying to.
Of course, this is just a very broad idea and you may need to modify these points as needed or change their order. But you get the gist.
Start by writing in your name, address and contact info (phone number and email) at the top. Address the employer by name, instead of a generic term like Hiring Manager or HR Manager, so it feels like you've done your research.
The Application Email
The email can really make or break your application. When a candidate sends me their application, I can almost always tell whether their resume will impress me or not by reading their email. Bad candidates send badly written emails with spell errors or even empty emails. It shows their lack of interest and enthusiasm.
An application email just serves one purpose – it should make the employer want to click on your resume & cover letter! But it can also go the extra mile and make you stand out in their inbox – so that they can forward it around in the team, and reply back.
So how can you make your application email good? It should be to-the-point, very short – but not incomplete. Just introduce yourself in 1 line, mention the position you're applying for, and that you've attached your resume, cover letter. Mention your contact number, and availability for joining, whether you can join asap or upon graduation, etc. You can also say you'll be grateful if they can set up an interview or let you know how to take this forward. And thank them – that's all.
You can address the receiver with "Dear Mr. …" or so. And mention your full name, contact number, city, qualification, email address in the signature.
On and Off-Campus Networking
When we think of the word networking, we often forget our own personal network. These include your friends, their friends and families. Now you must be thinking, my friend here is Andrea who stays with me in my dorm. How can Andrea help me get my new job in any way, when she's struggling herself?! But yes, it's still possible. Your dream company's CEO could be her professor's friend. It's a small world, and it's even smaller at Harvard.
The first thing do to is make sure your friends, classmates and professors know you're looking for a job, and what your job preferences are. Secondly, request anyone you think has a relevant contact for a lead or get advice. You never know what might click.
Try to meet people from the industry, request them to help improve your resume, your overall application or even your job search strategy.
Keep Backup Options in Mind
Sometimes you're not finding your perfect job because it's not right for you for some reason, or the industry demand is too low, etc. There are many factors at play. So it's best to be flexible and keep an eye out for opportunities that actually do come your way. Keep alternate options in mind, like a location or position that's not your ideal choice, but will do.
If you don't find a job right after graduation, find a related part-time position, join a startup or start a personal project. This will help you improve your skill-set while making sure you don't have a resume gap.
What jobs can you get after Harvard? You can get entry-level jobs after Harvard College and junior to mid-management level jobs after Harvard graduate schools, depending on your past experience and field. You'll usually be qualified for other related fields than your education, too.
Find an Internship
If you're still a student, make sure you find an internship for the summer break. If you're a fresh graduate having a hard time looking for a job, consider doing a paid-internship first.
Work well there, so your employer has a reason to offer you a full-time job or give you a stellar recommendation letter. You can also use this time for networking or applying for a full-time job.
Some Tips for Job-Searching Students
Keep trying to understand your personal strengths and interests while you're a student so you're one step closer to building your career.
It's usually easy to find a job, but you may have to work harder to find a dream job.
Keep reading the industry news in the newspaper, follow the news on social media, so that you're always aware where the demand is.
Meet students and professors from different schools to get a new perspective and to widen your network.
Don't always chase your passion. Say yes to the not-so-perfect job offer that's available, comfortable and pays well, even if it seems boring for now.
Keep a good rapport with visiting faculty as they are industry veterans and have a good network. They can often be a great support system for job search.
Don't hesitate to contact your old employers and college professors to get advice or leads.
Join or organize student groups for company visits and recruitment events.
Don't worry so much if things don't go your way immediately after graduation. Things will work out eventually.
'Real life' after Harvard can be both unsatisfactory and extremely fulfilling, depending on your outlook. For most of my friends from Harvard, it's a little bit of both, more fulfilling in some areas while lackluster at some points in their lives.
After graduating from Harvard, most alumni get a high-paying job. Graduating from Harvard doesn't guarantee success, but there's a very good chance you'll be successful. In fact, that's why Harvard selected you in the first place.
All the best!